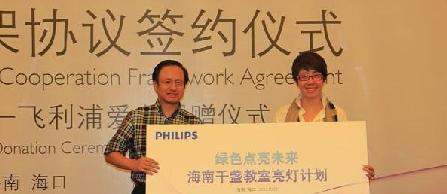 In order to promote Hainan's electronic product research and development and production capabilities as well as energy-saving emission reduction and green lighting construction, we will build a "National Ecological Civilization Demonstration Zone". Recently, the People's Government of Hainan Province and Philips (China) Investment Co., Ltd. signed a strategic cooperation framework agreement at Hainan Guest House.
Li Guoliang, deputy governor of Hainan Province, Kong Xianghui, CEO of Philips Global Executive Committee and Greater China, and Liang Hanfeng, President of Philips Lighting Greater China attended the ceremony.
Li Guoliang stated at the signing ceremony that Philips is the world's largest supplier of electronic products with a history of more than 100 years. It has global leading technology and innovative strength in the fields of healthcare, energy-saving lighting, new lighting applications and high quality of life, and provides a The work quality has made positive contributions. After many rounds of inspections and consultations, Hainan Provincial Government and Philips decided to carry out strategic cooperation. Philips will take the lead in the world to build an LED lighting production platform and green lighting experience center in Hainan for the green lighting business and energy saving and emission reduction in Hainan. make a contribution.
Li Guoliang said that Hainan is in an ascending stage of development. With its unique location, ecology, resources, and policy advantages, Hainan has become one of the important destinations for strategic emerging industries including large-scale domestic and foreign companies to deploy electronic information. Hainan encourages The soft environment supporting industrial development is also being further optimized. In recent years, Hainan has introduced a number of preferential policies to support the development of strategic emerging industries such as the information industry. When Philips enters Hainan at this time, it is precisely at this time that it will surely inject powerful power into Hainan's electronic information industry.
Kong Xianghui said in his speech that the cooperation with Hainan reflects Philips' strategy of accelerating its deployment in China and deepening the development of China's domestic market. Philips' business aligns well with the development direction of China's 12th Five-Year Plan. Philips' innovative strength and overall solutions in energy-efficient lighting, healthcare, and quality of life can promote the sustainable development of Hainan as a major province of tourism. Habitat's urban appearance, promote energy conservation and emission reduction, improve health care and improve people's quality of life.
According to reports, Philips will be located in Hainan Qingshui Bay International Information Industry Park. According to the agreement, Philips will combine Hainan Keli Electronic Information Group Co., Ltd. to jointly create the "Philips/Coli Hainan LED Lighting Co-production Platform" to meet the needs of local and surrounding high-efficiency energy-saving lighting products and build a modern green lighting experience center. , To demonstrate advanced applications and related products of Philips LED lighting, share advanced solutions for light source applications, and provide technical support for the future production and application of LED lighting, thereby enhancing the overall application level and sustainable development of high-efficiency lighting in Hainan.
After the signing ceremony, Philips also donated two automatic cardiac defibrillators (AEDs) to the Hainan Provincial Department of Health to support the smooth implementation of the Boao Forum and donated 6000 盏 directly managed energy-saving lamps to the provincial Department of Education to help improve Haikou. Lighting conditions in the five schools in Sanya, Lingshui and Lingshui.
Auto Halogen Lamps,Rainbow Halogen Auto Lamp,Blue Halogen Auto Lamp,Golden Halogen Auto Lamp
Heshan Jianhao Lighting Industrial Co., Ltd. , https://www.sunclubtw.com