The author learned from the Jinan Municipal Bureau of Commerce that the advantages of Jinan City to undertake the LED industry transfer are basically mature, such as breakthroughs in industrial development planning, product promotion and utilization, increase government procurement and investment promotion, and it is expected to join the national semiconductor lighting as soon as possible. Industry base city ranks.
There are more than 20 semiconductor lighting related enterprises in Jinan, including 11 enterprises above designated size. Products involved in LED substrate materials, epitaxial wafers, chips, packaging and application products and other fields, the industry chain is relatively complete. In 2009, the sales revenue was 658 million yuan, a year-on-year increase of 17%. In the first half of 2010, the sales revenue was 380 million yuan, a year-on-year increase of 18%.
In the next few years, Jinan will invest 400 billion yuan to build 16 urban complexes, and vigorously promote the construction of three new districts. The city's total floor area ratio will increase to about 2.5. The expansion of urban development space will bring a broad market to the development of LED industry. space.
Jinan has strong semiconductor lighting research and development capabilities. It has the domestic first-class R&D team led by Academician Jiang Minhua and the State Key Laboratory of Crystal Institute of Shandong University. It has 3 provincial-level semiconductor lighting engineering technology centers (accounting for 1/3 of the province). It provides strong technical support for the development of semiconductor lighting technology research and industrialization in the city.
In recent years, Jinan City's investment in the LED field has been continuously increased. The wave (Jinan) Optoelectronics Industrial Park with a total investment of 4 billion yuan was officially laid in the high-tech zone in November 2009. After the completion of the park, it will cover Jinan. Weifang and Linyi have become the largest LED industry bases in China and the largest semiconductor lighting industry base in China. In addition, there are 9 LED projects currently under discussion in Jinan City, among which there are 5 projects in the high-tech zone, namely LED production projects, science and technology environmental protection projects, solar photovoltaic power generation projects and LED product hypermarket projects. Inspur Group is talking about three projects, namely LED epitaxial wafer project, LED memory packaging and testing project and LED packaging testing project. In addition, there are LED lighting production projects in Huaiyin District.
Relevant experts pointed out that measures and measures to promote industrial development should be issued as soon as possible, research and development of the semiconductor lighting industry development plan, increase the promotion and promotion of the semiconductor lighting industry, and support the development of the LED industry as soon as possible to further optimize Industry supporting development environment. By supporting key demonstration enterprises and key demonstration projects, we will stimulate market demand, accelerate the promotion and application, and promote a virtuous circle of industries. Implement the 21st Century Light Plan to provide financial subsidies to companies or households that use semiconductor lighting fixtures. The government should widely promote the use of semiconductor lighting products in urban lighting, landscape lighting, road lighting and major urban activities. At the same time, it will combine semiconductor lighting with the solar photovoltaic industry in the city's advantageous industries, expand the application field of photovoltaic products, and strive to create the city. An advanced city that saves energy and reduces consumption throughout the country. Increase investment attraction, gather resources of industrial chain enterprises, rely on Jinan's technological advantages in the field of semiconductor lighting, extend upstream to LED chips, and use basic materials research and chip production as entry points to expand downstream of packaging and application industries. Extend and lengthen the industrial chain to form an industrial chain with large scale, complete facilities and significant benefits. Extensively strive for financial support from the state, provinces and municipalities, make full use of various policies, establish a multi-channel investment and financing system, promote cooperation between banks and enterprises, guide bank loans to key projects in the information industry, and strive to join Jinan as soon as possible to join the national semiconductor lighting industry base. The ranks of the city.
More than 11 LED companies are stationed in Nanhai Electric Light Source Industry Base
Huizhou strives to build a national LED industry base

EPS basic working principle similar to the backup UPS or inverter, that is, when the electricity is normal, the electricity through the EPS mains bypass directly to the load, when the utility power, EPS switch to the battery inverter power supply to the load. Applicable to emergency panel lights and the like, you can adjust the control current to reach the emergency control of the voltage, control energy.
For most in the lighting industry industry there is a very real learning curve as we explore the intricacies, applications, limitations and potential of this amazing light source. Despite the curve, use of LED lighting for general lighting purposes is rapidly growing. Its popularity is not a mystery. LED technology is continually
improving. LEDs offer long life and high efficiency, have low operating costs and are lead and mercury free.
As with other types of lighting, LED lighting must meet the life safety code requirements for emergency illumination. LED fixtures serving as emergency units
must, therefore, provide at least 90 minutes of emergency lighting. Philips Bodine emergency LED drivers and emergency lighting inverters allow these fixtures
to meet or exceed code.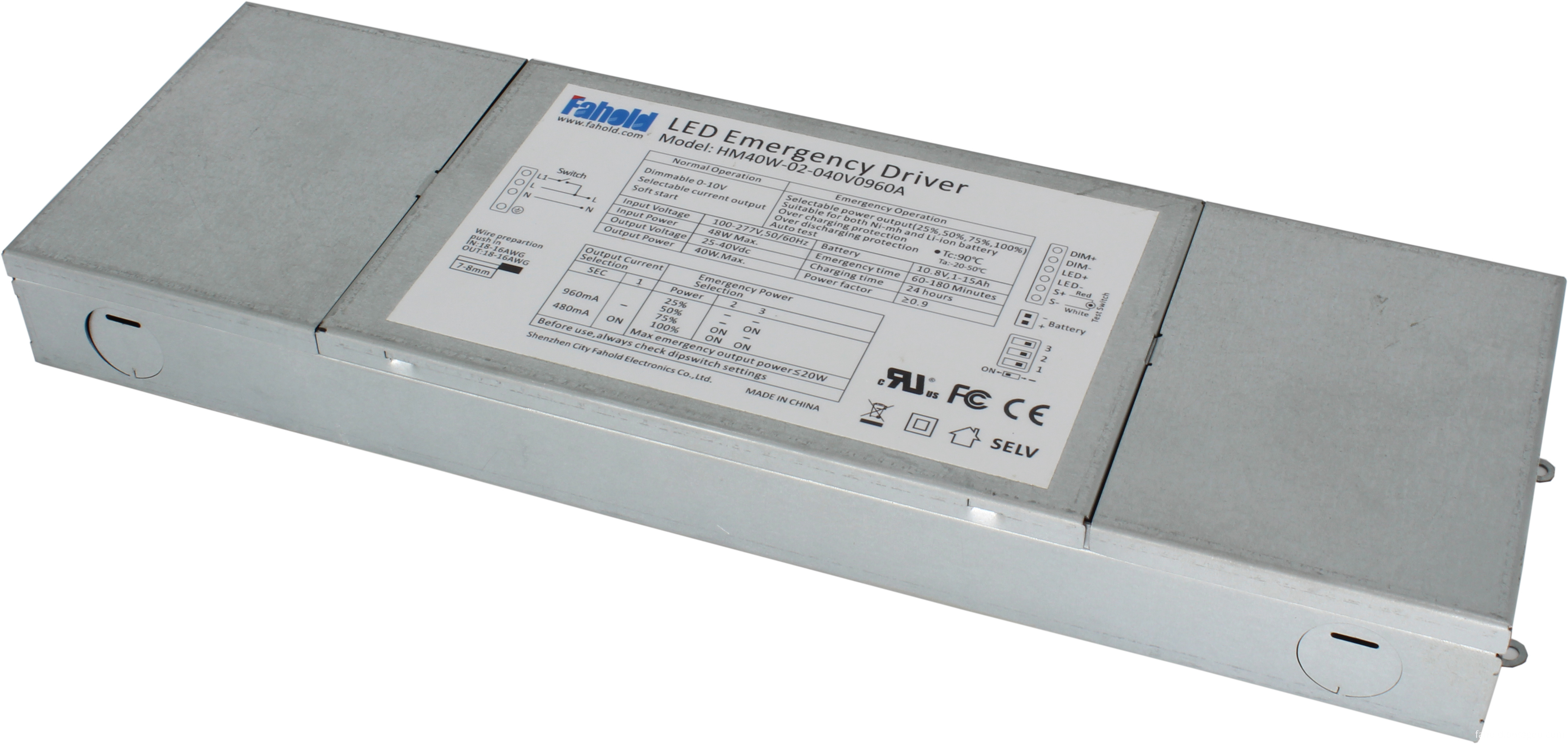 LED Emergency Driver
LED Emergency Driver,LED Emergency Lights,Emergency Light,LED Warning Lights
ShenZhen Fahold Electronic Limited , http://www.fahold.com